Create non-toxic, bird-free and insect-free microenvironment for your crops in seconds!

Simply placed the net bags over the plant and tighten the rope, and no more bird biting and insect eating your crops. All your crops are protected securely!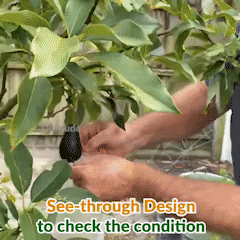 Non-toxic and reusable Insect-Proof Net Bag is designed for planting different fruits and plants. Breathable design ensures your crops do not affected by temperature and humidity change.



Safe Protector: Protect your plants, veggies and other fruits from bird and insect.
Breathable & Waterproof: Microenvironment does not destroyed by the weather change.
Reusable: 100% strong, lightweight, stretchy see-through nylon mesh, waterproof, sturdy and reusable for few years.
Easy to Use: Tighten the rope and get full protection.
Multi-use: Keeps out birds, bugs, fruit flies, insects, pest, and other animals to protect your harvest; Acted as harvest bags to store plant seed or fruit
Perfect for: plants, vegetables, flowers from insect, mosquito, bug, bird, squirrels and animals.


PRODUCT SPECIFICATIONS:
Color: White
Material: 100% sturdy nylon mesh
Size (cm): 15*25 / 45*15 / 60*40

PACKAGE INCLUDES:
5pcs / 20pcs x Insect-Proof Net Bag