WEAR YOUR FOOTWEAR WITH COMFORT AND CONFIDENCE! PREVENTS YOUR FOOT FROM GETTING INJURIES!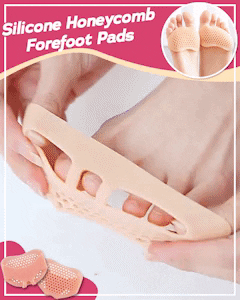 Innovative
Silicone Honeycomb Forefoot Pad
, an
anti-pain
&
anti-slip
silicone foot pads,
provides enough foot support
;
relieves stress and pain
from wearing high heels or shoes;
keeps your feet comfortable and safe
.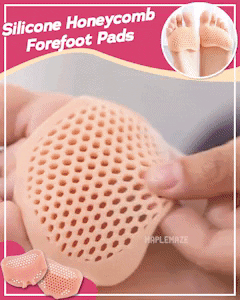 【Foot Pain Relief】
Disperses forefoot pressures
and
absorbs shock friction
to support your forefoot, protect your foot from injuries when wearing uncomfortable shoes!
【Overcome Foot Disorder】
Forefoot pad supports are efficient to
relieve Metatarsalgia, Morton neuroma, Plantar fasciitis, Blisters, Calluses, Burning sensation, and Foot pain.
【Breathable Pads】
Plenty of air holes
provide additional ventilation
, keeping your feet
dry all day
.
【One Size Fits All】
Made of
elastic
and
durable
silicone that fits most feet sizes! Moderate thickness leaves room for your toes.
【Versatile Use】
A metatarsal gel pad that can be used inside socks, high heels, tennis shoes, boots and all kinds of daily footwear for versatile application.
【Safe and Reusable】
Made from Medical Grade Silicone Gel, our metatarsal foot pads
do not absorb odor and dirt
, they can be
reused
and
washed
.
PRODUCT SPECIFICATIONS:
Material: Silicone
Color: Beige and White
Style: Think / Thin
PACKAGE INCLUDES:
1 / 3 / 5 Pairs x Silicone Honeycomb Forefoot Pad